Donald W. Rupert – In Memoriam 1946-2020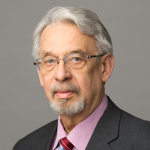 It is with great sadness that we announce the death of our colleague, Donald Rupert. Don passed away on July 19, 2020. Born in 1946, Don spent more than 43 years practicing law, and he handled well over 100 IP litigation matters during his career. A brilliant attorney, he was lead trial counsel in jury and bench trials and lead appellate counsel in IP appeals; after spending more than a decade at Mayer Brown, Don came to Marshall Gerstein in 2007. He also practiced at Mahin & Cate, Roper & Quigg, Neuman Williams Anderson & Olson, Kirkland & Ellis and Arnold, White & Durkee.
Don graduated from Miami University with a Bachelors of Science degree in Chemistry in 1968. He served in the U.S. Air Force from 1968–1974, and was honorably discharged as a Captain. After the Air Force, Don attended Washburn University School of Law, and graduated with his Juris Doctorate degree, Cum Laude, in 1976.
Don will be greatly missed at Marshall, Gerstein & Borun. Not only was Don a great colleague and friend, his mentorship extended from attorneys to staff. Don gave his advice freely, and, unlike most free advice, his tended to be priceless. His insights from business to baseball were often soft-spoken, but always well-reasoned. We are grateful for the many years that we all were fortunate to have with Don.