Women In Bio (WIB) Event on Entrepreneurship Increases Visibility in Chicago Area
The Chicago chapters of Women In Bio (WIB-Chicago) and the Association for Women in Science (AWIS) co-sponsored an event entitled, "Women and Entrepreneurship: How Corporate and Academic Women Can Participate in the Entrepreneurial Process," on Thursday, July 14, 2011.
During networking and dinner, Amy Millman, President of Springboard Enterprises, shared "lessons learned" through coaching women entrepreneurs to present themselves and their companies to investors over the last decade. Attendees in the audience shared their stories and their advice during the lively discussion.
Katherine L. Neville, Ph.D., as Co-Chair of the Programming Committee, has coordinated planning the WIB-Chicago 2011 series of educational programs.
Listed below are those pictured from left to right. All listed are members of the WIB-Chicago Steering Committee unless noted otherwise.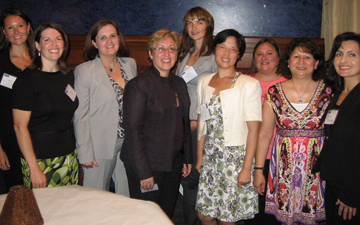 Caralynn Chenoweth, M.D. (Sikich Investment Banking); Katherine L. Neville, Ph.D., WIB-Chicago Programming Committee Co-chair (Marshall, Gerstein & Borun LLP); Dimitra Georganopoulou, Ph.D. (Ohmx Corporation); Amy Millman, Featured Speaker (Springboard Enterprises); Elena Makarov, M.D., WIB-Chicago Communications Committee Co-chair; Sherri Oslick, Ph.D., WIB-Chicago Programming Committee Co-chair (McDonnell Boehnen Hulbert & Berghoff LLP); Robbie Melton, WIB Co-founder; Sara Vinarov, Ph.D. (Quarles & Brady LLP).
Resources