Closing in on US PATENT NO. 8,000,000
The US Patent & Trademark Office (USPTO) issued approximately 4,700 utility patents today, August 2, 2011. By the end of August, the USPTO will issue United States Utility Patent No. 8,000,000. It seems only recently that we were closing in on 7,000,000. As we approach this milestone, here's a look back on prior patents belonging to this exclusive (or, more accurately, right to exclude others) "millions" club: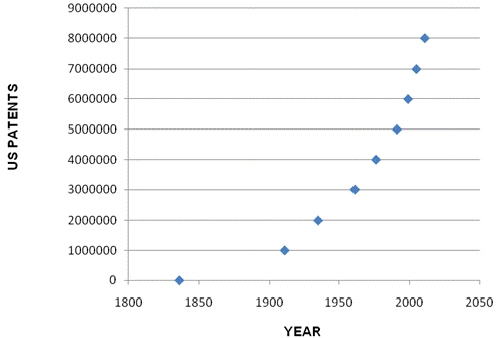 US Patent No. 7,000,000 issued February 14, 2006 to E. I. du Pont de Nemours and Co. and was directed to fibers having cotton-like properties, but that could be produced as continuous filaments on a year-round basis.
US Patent No. 6,000,000, issued December 7, 1999 to 3Com Corporation, was directed to a synchronization system for handheld computer devices.
US Patent No. 5,000,000, entitled Ethanol Production By Escherichia Coli Strains Co-Expressing Zymomonas PDC and ADH Genes, issued March 19, 1991 to the University of Florida.
US Patent No. 4,000,000, issued December 28, 1976 to Robert Mendenhall, involved recycled asphalt-aggregate compositions.
US Patent No. 3,000,000 issued September 12, 1961, and was assigned to General Electric. This patent involved an apparatus for reading characters of text.
US Patent No. 2,000,000 issued April 30, 1935, and was titled Vehicle Wheel Construction. The patent was assigned to Edward G. Budd Manufacturing Company.
US Patent No. 1,000,000 issued August 8, 1911 to Francis H. Holton, and was also on a vehicle tire construction.
Resources