Distinctive visual elements of the CRACKER BARREL logo insufficient to defeat Kraft trademark challenge
On November 14, the Court of Appeals for the Seventh Circuit affirmed a preliminary injunction that precludes the Cracker Barrel restaurant chain from using its distinctive CRACKER BARREL logo on hams sold in grocery stores. Kraft claimed that consumers might mistakenly think that the hams come from Kraft, which sells cheese under its own, different CRACKER BARREL mark. The decision, issued by Judge Posner, gives little weight to the distinctiveness of the logo that the restaurant uses.
The respective marks for the restaurant's ham and for Kraft's cheese are seen below: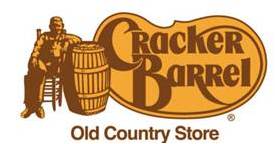 Trademark owners may wish to re-evaluate their confidence that courts will recognize that prominent visual differences in marks (even a famous one) are sufficient to prevent purchaser confusion. Click here to read the decision.
If there are questions or concerns relating to the ramifications of this decision, please contact an attorney or agent in the trademark practice group.
The information contained in this alert is for informational purposes only and is not legal advice or a substitute for obtaining legal advice. Under applicable rules of professional conduct, this communication may constitute Attorney Advertising. © 2013 MARSHALL, GERSTEIN & BORUN LLP, Chicago, Illinois. All rights reserved.
Resources