James E. Shultz, Jr. – In Memoriam 1961-2023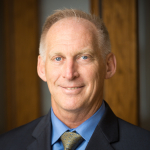 James Edward Shultz Jr., 61, of Grand Haven, MI, died Friday, March 31, 2023, as a result of an automobile accident. Jim began working with Marshall Gerstein in June of 2011. In the eleven-plus years that Jim worked at our firm, he was a trusted advisor for his clients, and a cherished colleague with all members of our firm. Although Jim worked remotely as an Associate with the Electrical & Computer Technologies group, his communication style and professionalism never made it feel like he was far from the Chicago office. Indeed, the last few years of Zoom meetings and a world where everyone worked remotely made Jim's presence feel closer than ever.
Jim had a distinguished career as a patent attorney and an electrical engineer. Prior to joining Marshall Gerstein, Jim served as in-house intellectual property counsel at a global automotive products company that marketed high technology electronics. As a result, Jim had a balanced perspective and holistic view of patent prosecution, trademarks, and copyrights. Jim had a keen appreciation of marketable product design, permitting him to quickly recognize and help protect and organization's valuable intellectual property.
Jim was a graduate of Capital University Law School in Columbus, OH, and earned a B.S. in electrical engineering and a M.S. in electrical and computer engineering from Ohio University.
Jim will be greatly missed. Access Jim's obituary.