Jerome B. Klose – In Memoriam 1923-2020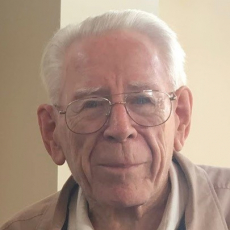 Jerome B. Klose lived an extraordinary life, and as a law firm, we at Marshall Gerstein were fortunate enough to share 38 years with him as a colleague. A Chicago patent attorney and WWII veteran, Jerome died on Tuesday, Sept.1, 2020, at the age of 97. Military funeral honors and interment were held on Monday, Sept. 14, 2020, at Abraham Lincoln National Cemetery in Elwood.
Mr. Klose was born on Feb. 7, 1923, in Chicago. He grew up in Villa Park and attended Elmhurst College prior to entering the army in 1943. He served in the Pacific Theater, in New Guinea, the Philippines, and then in Japan after the occupation. On Sept. 2, 1945, he watched from the edge of the Tokyo Bay as representatives from the United States and Japan aboard the USS Missouri signed the treaty that ended WWII.
Following his discharge from the army in 1946, he attended the University of Illinois on the GI Bill, graduating with a B.S. in chemistry in 1947 and a J.D. in 1949. Using his two degrees, he found work in a rapidly evolving field - modern patent law. He worked in the patent department at Merck & Co. in Rahway, New Jersey from 1950 -1954, taking night classes at NYU and Columbia University in patent, trademark, and antitrust law.
Mr. Klose joined the law firm of Mitchell, Merriam & Conway in 1954 shortly after it was formed. In 1965, he became a senior partner in the firm, which was then called Merriam, Marshall, Shapiro & Klose. His legal expertise included extensive experience in chemical patents, mechanical patents, and in patent and trademark litigation. He truly enjoyed the law and his clients, and always said his "clients were the best part of his job." Beyond that, Jerome mentored many younger attorneys at the firm. He retired from the firm, now called Marshall, Gerstein & Borun, in 1992.
Memorials in Mr. Klose's name may be made to The National WWII Museum in New Orleans; Mission K9 Warrior c/o American Legion Dornblaser Post 203, 106 E. West St., Georgetown, IL 61846; or to any organization supporting veterans and members of the armed forces.