Joseph A. Williams, Jr., Ph.D. In Memoriam 1958–2014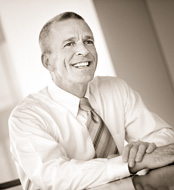 It is with great sadness that we announce the death of our partner Joseph A. Williams, Jr., Ph.D. Joe passed away after a brief illness, with his family and dearest colleagues from the Firm at his side.
After obtaining a Ph.D. in biochemistry from the University of Tennessee and working as a scientist, Joe joined Marshall, Gerstein & Borun in 1993 as a Technical Specialist and later became a Patent Agent. Upon his graduation from DePaul University College of Law in 1999, Joe became an Associate at the Firm and was elevated to Partner in 2003. Over the years, Joe built a highly regarded biotech, pharma and life sciences practice through his superior legal counsel and the professional, and more importantly, personal service he provided to his clients.
Joe was a leader in the Firm's Biotechnology practice group, which was recognized as "one of the best biotechnology practices in the entire country" (Chambers USA) and ranks among the "World's Leading Intellectual Property Practices" for patents, biotechnology and trademarks (Managing IP's 2013 World IP Survey). Joe served as practice group chair from 2007 until his passing. As a mentor, he was instrumental in helping develop the skills of attorneys and agents who worked with him on IP matters in a variety of technical disciplines including DNA, RNA, protein and antibody therapeutics and diagnostics, plant biotechnology, industrial technology and research platforms.
In addition to providing excellent client service and mentorship, Joe was a good friend to clients and coworkers. Those who knew Joe on a personal level would all agree that he was one-of-a-kind. Such sentiment is echoed by his very dear and highly valued assistant Jennie Lape who spent a great 16 years working side-by-side with him serving clients. Many would say his camaraderie, wit and sense of humor defined Joe. He befriended pretty much everyone, and was adept in his ability to turn on his Southern charm with ease. Joe's sense of camaraderie and his presence will be missed.
Beyond his professional accomplishments and great character, Joe had a number of personal interests. He held on to his Chicago Cubs season tickets each year with the hope that this would be the year they would make it to the World Series. And few knew that Joe originally planned to be a veterinarian and was a great lover of dogs. With this in mind, and in lieu of flowers, Joe's family asks that any memorial contributions be made to PAWS Chicago, an organization with a mission to transform animal welfare by setting higher standards for animal treatment.
PAWS Chicago, 1997 N. Clybourn Ave., Chicago, IL 60614
773-935-7297
While Joe will leave a lasting legacy for his professional accomplishments, the Marshall, Gerstein & Borun LLP family and his clients will miss Joe for the uplifting effect he had on our lives, and all those he touched. He was a good friend and will be missed dearly.
Resources