Marshall Gerstein & Borun Named "Biotechnology Law Firm of the Year" by Lawyer Monthly Legal Awards 2013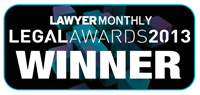 Marshall, Gerstein & Borun LLP was named "Biotechnology Law Firm of the Year" by Lawyer Monthly Magazine Legal Awards 2013. The Lawyer Monthly Legal Awards recognize the achievements of lawyers, law firms and associated legal professionals whose knowledge and expertise continue to influence the wider profession. Winning firms were selected for their demonstration of professional achievement and excellence in their jurisdiction and sector of practice, and only 22 firms in the United States were recognized with this prestigious honor.
Marshall Gerstein's large Biotechnology Group includes lawyers and patent agents with broad experience in a variety of biotechnology disciplines, including: DNA, RNA, vaccine, protein, and antibody therapeutics and diagnostics; cell-based and viral therapeutics; drug and gene therapy delivery vehicles; plant biotechnology; industrial technology and research platforms; nanotechnology and interdisciplinary inventions. The Firm's professionals are skilled at providing patent counseling relating to the interface between patents, clinical product development, FDA regulations and regulatory exclusivity.
The Firm is experienced in traditional, chemical-based pharmaceuticals, formulations, and delivery technologies. The Firm has procured, enforced and/or defended patents for biotech companies relating to a number of billion-dollar biologic or pharmaceutical products and handled key patents for clients covering more than a dozen different commercially marketed products and numerous clinical trial candidates.
Lawyer Monthly is a global publication providing news, analysis and features on the latest headlines within the legal and corporate worlds. To view Marshall Gerstein's profile in the Legal Awards 2013 edition of the magazine, click here.
Resources