Marshall, Gerstein & Borun Ranked Among World's Top Trademark Firms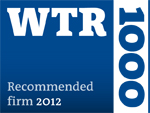 Marshall, Gerstein & Borun LLP has been recognized in World Trademark Review 1000's 2012 edition. World Trademark Review 1000 is the world's only independent multimedia publication dedicated to reporting on trademark issues for in-house and private practitioners internationally. It also identifies firms and individuals setting industry benchmarks for trademark legal services. To select firms for inclusion in the World Trademark Review 1000, World Trademark Review conducted hundreds of interviews with trademark specialists, both private practice and in-house, in more than 50 key jurisdictions. Top-ranking finalists were selected as the firms and individuals to whom trademark professionals turn to for unparalleled trademark services when seeking local and international legal partners.
Marshall Gerstein's Trademark Group provides a full range of trademark-related services in the U.S. and abroad, including clearing, registering, enforcing, opposing, and defending trademark rights. The Firm also represents clients in the resolution of disputes involving design and trade dress infringement, counterfeit products, dilution, unfair competition and trade practices, domain names and rights of publicity. The Trademark Group offers clients a proven embedded attorney program to assist clients to economically and effectively control their trademark portfolios. The Group's clients include: The Nielsen Company, Aon Corporation, Ball Horticultural Company, CDW, CNA Corporation, Crosman Corporation, Goss International Corporation, Jon-Don, Inc., Penford Corporation, PGA of America, Relìv International, Inc., ShopVac, and Zenith Electronics LLP.
Resources