Marshall Gerstein Selected as a Top Firm for LGBT Workplace Equality
Marshall, Gerstein & Borun LLP was selected by Equality Illinois as one of the top Illinois law firms leading the way to lesbian, gay, bisexual, and transgender (LGBT) equality in the workplace. Firms were selected based on the results of Equality Illinois' 2016 Law Firm Survey, which evaluated firms on several factors, including personnel policies, civil union and same-sex partner benefits, diversity management, and community relations. Marshall Gerstein is recognized along with other leading firms in Raising the Bar: Recognizing Best Practices in Recruiting, Hiring and Retaining LGBT Employees.
Equality Illinois is a non-profit organization dedicated to securing, protecting and defending equal rights for lesbian, gay, bisexual, and transgender people in Illinois.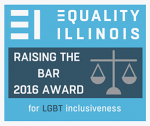 Visit our Awards & Rankings page for a full list of firm honors.