Recycling Nuclear Fissile Waste
October 20, 2022
Marshall Gerstein Insights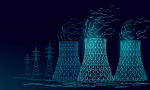 Last week at the Future of Energy Conference hosted by the Thorium Energy Alliance, Associate Brian Raddatz learned about the advancements and exciting potential in recycling nuclear fissile waste. Not only could recycling nuclear fissile waste reduce the amount of waste generated by current nuclear power plants, we can make our current stores of nuclear waste a nuclear energy reserve that could last for decades, if not centuries!
Connect with Brian with questions about the Future of Energy Conference or if you are looking to know more about nuclear power, thorium, syn fuels, or nuclear recycling.
DISCLAIMER: The information contained in this post is for informational purposes only and is not legal advice or a substitute for obtaining legal advice from an attorney. Views expressed are those of the author and are not to be attributed to Marshall, Gerstein & Borun LLP or any of its former, present, or future clients.