IP Litigation Partner Anthony Gabrielson Wins 2014 ILO Client Choice Award
Marshall, Gerstein & Borun LLP is pleased to announce that litigation partner Anthony S. Gabrielson was the exclusive winner in the International Law Office (ILO) Client Choice Awards 2014 "Intellectual Property Patents – Illinois" category. Nominations for the award are made by corporate counsel only and, this year, more than 2,000 nominations were received. Clients praised Mr. Gabrielson's wisdom, good judgment and deep subject matter knowledge. "I could not ask for a better outside counsel," said one. Other nominating clients commented:
"His solutions require him not only to help mitigate risk but also to be practical in its application. Anthony has been able to achieve both because he has taken the time to truly understand our business and because of his deep knowledge of his subject matter."
"Through wisdom and good judgment, Anthony gets the job done without wasted effort, or added or unneeded expense to the Company - and without unnecessarily burdening our in-house legal team or our co-workers."
"It is unique in my position to have co-workers call the legal department to tell me what a nice and capable outside lawyer we hired to help them. With Anthony, calls like this are the rule rather than the exception."
Clients find Mr. Gabrielson invaluable in managing their complex, high-stakes litigation. He has developed extensive experience in all phases of intellectual property litigation and has consistently demonstrated his ability to skillfully protect clients' business and legal interests in patent infringement matters involving technologies spanning computer software and hardware, e-commerce and web interfaces, fiber optic video networks, pharmaceuticals and medical devices, agricultural equipment and consumer products, among many others. Mr. Gabrielson has counseled some of the nation's largest companies, has served as lead trial counsel on numerous federal and state court litigation matters, and also advises on the ever-developing areas of eDiscovery and management of electronically stored information.
Mr. Gabrielson gives back to the community through pro bono work and active service in several professional organizations. At Marshall, Gerstein & Borun, he provides leadership through his service on several committees and his dedication to mentoring associates. He was included among Law Bulletin's 2013 "40 Illinois Attorneys Under Forty to Watch" and has twice been included in the Illinois Super Lawyers list, a recognition given to only 5 percent of attorneys in the state. Mr. Gabrielson received a J.D. from Harvard Law School and a B.A. degree with honors from the University of Iowa.
Client Choice recognizes law firms and partners around the world who provide excellent client care and quality service. The criteria focuses on an ability to add real value to clients' businesses above and beyond other players in the market. Both law firms and partners may be nominated by corporate counsel only. A full listing of ILO Client Choice Awards 2014 recipients is available in the Client Choice Guide – USA & Canada. To view Mr. Gabrielson's profile, click here.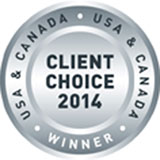 Resources