Biography
Noah K. Tilton is a computer scientist and patent attorney whose practice is focused on providing intellectual property guidance to companies innovating in cutting-edge software and hardware technologies. Noah prosecutes domestic and international patent applications, conducts analyses and prepares opinions, and advises clients on litigation matters.
Prior to joining Marshall Gerstein, Noah was in-house patent counsel for the Wolfram companies and also worked as a software developer at CME Group and as an intern at the Free Software Foundation. Noah's deep practical experience in the software industry helps him to quickly grasp technical concepts and work effectively with inventors and counsel to advance and capture ideas. Noah has successfully secured patents and other intellectual property for university clients, early stage startups, research institutions and Fortune 100 companies.
Noah is a multidisciplinary practitioner who enjoys the challenge of learning new technologies and applying the ideas of computation to concepts spanning many fields (e.g., machine learning/AI, bioinformatics, cloud computing, cryptography, medical devices, sporting goods, etc.). He regularly counsels clients regarding free/open source software copyright issues.
In 2021, Noah was selected for inclusion in the Illinois Rising Stars® lists, featuring outstanding young attorneys in the state.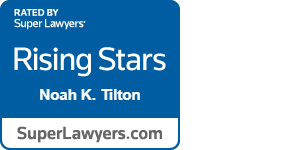 Representative Experience
Patent Preparation and Prosecution
Noah's recent experience includes work in fields such as augmented reality, bioinformatics, building automation, cloud/distributed computing, control systems, computational linguistics/natural language processing, computer vision, cryptography/secure computing, decentralized identity, e-commerce, functional programming, hardware, imaging, machine learning (applied and theoretical), medical devices, precision agriculture, rotational spectroscopy and more.
Technology Transactions and Due Diligence
Prepared freedom-to-operate/due diligence legal memoranda for M&A transactions.
Prepared legal memoranda regarding use, modification, and distribution of several thousand Free/Open Source Software (FOSS) packages included in industrial products.
Prepared legal memorandum regarding contested inventorship involving university faculty.
Prepared legal memorandum regarding issues and risks surrounding the training of generative artificial intelligence models using copyrighted data.
Background and Credentials
Noah earned his J.D. from Chicago-Kent College of Law, and he also holds a Master of Science in Computer Science from the University of Chicago, and a Bachelor of Arts in English from the University of Illinois at Chicago.
Education
University of Chicago

(

M.S.

)

Chicago-Kent College of Law, Illinois Institute of Technology

(

J.D.

)

University of Illinois at Chicago

(

B.A.

)

English, Creative Writing of Poetry
Bar Admissions
Illinois

U.S. Patent and Trademark Office
Publications and Presentations
"Federal Circuit & SCOTUS Patent Law Update: Thaler v. Vidal; WhitServe LLC v. Dropbox, Inc.; Worlds, Inc. v. Activision Blizzard, Inc.; Am. Axle & Mfg., Inc. v. Neapco Holdings LLC; and Interactive Wearables LLC v. Polar Electro Oy.; Co-Presenter, October 2022.
"Federal Circuit & SCOTUS Patent Law Update: Minerva Surgical Inc. v. Hologic, Inc.; U.S. v. Arthrex, Inc.; and Mylan v. Janssen, 2021"; Co-Presenter, October 2021.
"So Long, and Thanks for All the Fish," PTABWatch blog, October 23, 2020.
"Patenting Software & AI Inventions," Co-Presenter, September 17, 2019.
"PTAB Properly Applied the Printed Matter Doctrine," PTABWatch blog, August 29, 2018.
Community and Professional Involvement
For several years, Noah has volunteered with the Willis for Heroes Foundation. He is also a member of the Artificial Intelligence and New Emerging Technologies Committee within the Intellectual Property Owners Organization.