Marshall Gerstein Wins Three 2018 LMG Life Sciences Awards
Marshall, Gerstein & Borun LLP is pleased to announce that it took top honors in three categories at the sixth annual LMG Life Sciences Awards, which recognize the best life science practitioners and firms over the past 12 months from the United States, Canada, and Europe.
Marshall Gerstein received the following honors at the 2018 LMG Life Sciences Awards in New York:
Pamela Cox is the chair of Marshall Gerstein's IP Transactions practice. She is recognized as one of the country's leading licensing authorities, particularly in the life sciences. Committed to advancing the profession, Cox is chair and president of the Board of Governors for the Certified Licensing Professionals, a board member of the Licensing Executive Society International, and an adjunct law professor at Northwestern University Law School.
John Labbé is an accomplished trial lawyer and patent attorney with a focus on representing clients in intellectual property cases involving biotechnology, pharmaceuticals, and biologics. He served as first-chair trial counsel in Amgen v. Hospira, securing a $70 million verdict for client Amgen in the first patent-infringement jury trial about a biosimilar under the Biologics Price Competition and Innovation Act.
In addition to Mr. Labbé, the Marshall Gerstein trial team in Amgen v. Hospira included Kevin M. Flowers, Ph.D., Julianne M. Hartzell, Mark H. Izraelewicz, and Benjamin T. Horton.
The LMG Life Sciences awards are based on case evidence and feedback from clients and peers and selected by the editors of Euromoney's LMG Life Sciences guide, which is aimed at providing attorneys and law firms with information on the legal market and the U.S. life sciences industry. Research for the guide was based on nearly 1,000 interviews and surveys completed by law firm partners active in the market.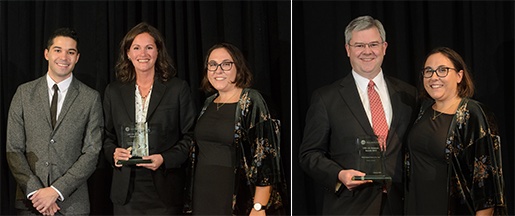 Left picture: Pamela L. Cox accepting her award for "Patent Strategy & Management Attorney of the Year" with emcees Chris Adams, Editor, LMG Life Sciences and Brittany Sharoff, Research Analyst, LMG Life Sciences
Right picture: John R. Labbé accepting his award for "General Patent Litigator of the Year – Illinois" with emcee Brittany Sharoff, Research Analyst, LMG Life Sciences
Visit our Awards & Rankings page for a full list of firm honors.