Marshall Gerstein Elevates Five Attorneys to Partner
Marshall, Gerstein & Borun LLP today announces that it has elected five attorneys to partnership, effective Jan. 1, 2023. Kelley S. Gordon, Robert S. Jacobson, Shannon Hughes Mastick, Kate Nuehring Su, and Noah K. Tilton join Marshall Gerstein's partnership. These attorneys provide sophisticated intellectual property (IP) advice and legal services to many of the world's largest, most innovative businesses, research institutions, universities, and entrepreneurs.
"All of us at Marshall Gerstein are thrilled to name Kelley, Rob, Shannon, Kate, and Noah as partners," said Jeffrey Sharp, the firm's managing partner. "Each of these talented attorneys has made exceptional contributions to the firm through their thoughtful and steady counsel of our clients. Their unique scientific backgrounds and deep industry experience are representative of our multidisciplinary approach, and we all look forward to supporting their continued success."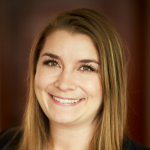 Kelley S. Gordon brings a background in both science and the arts to her IP counsel. As a litigator, Kelley handles enforcement of trademark, copyright, and patent related matters and practices before the Trademark Trial and Appeals Board, United States District Court, and the United States International Trade Commission. Kelley's practice also focuses on assisting her clients manage and enforce their global and domestic trademark and copyright portfolios, providing guidance on global filing strategies and maintenance goals. Her experience includes successful representation of clients in both litigation and prosecution in sectors including pharmaceuticals; medical devices; consumer goods; retail services; technology services; financial products and services.
She received her law degree from The John Marshall Law School (now the University of Illinois Chicago School of Law) with a certificate in intellectual property. She also holds a master's degree in art history and visual culture from Richmond, The American International University in London, and a bachelor's degree in cognitive science from Indiana University.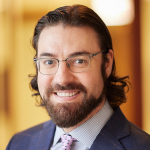 Robert S. Jacobson is a former engineer who spent five years in the telecommunications sector, most recently as a device engineer for U.S. Cellular, before joining Marshall Gerstein. His background in engineering helps him to demonstrate a strong understanding of his clients' underlying technologies. Rob provides comprehensive counsel in a number of technological areas, including digital communications, wireless devices, telephony, imaging, cloud computing, machine learning, and control systems. Rob began his legal career at Marshall Gerstein as a Technical Specialist.
He earned his law degree at the Chicago-Kent College of Law, Illinois Institute of Technology, and his bachelor's degree in engineering from the University of Illinois, Urbana-Champaign. Rob is an active member of the Chicago IP community, having served as a mentoring committee member for the Chicago Intellectual Property Alliance.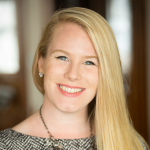 Shannon Hughes Mastick is a registered patent attorney with a focus on electrical and computer technologies. Her clients range from Fortune 100 corporations to universities and individual inventors. Shannon enjoys helping her clients transform existing technologies into "smart" devices and solutions that leverage machine learning to improve processes. Drawing on that passion, she focuses her practice on obtaining and protecting intellectual property rights in a post-Alice eligibility environment in the areas of software and automation, as well as machine learning, neural networks, and other types of artificial intelligence (AI). Shannon currently serves as the vice chair of the U.S. patents committee of the Intellectual Property Law Association of Chicago (IPLAC). In 2022, Shannon was selected to participate in the Leadership Council on Legal Diversity (LCLD) Pathfinder Program, which focuses on foundational leadership skills and strategies for continuous career development.
She received both her law degree and a bachelor's degree in physics from the University of Notre Dame.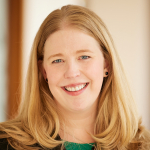 Kate Nuehring Su is a creative problem-solver who secures and protects the IP rights of innovative companies and individuals. Kate focuses on domestic and international patent prosecution, and clients rely on her extensive experience to help them develop and manage patent portfolios. Clients also routinely turn to Kate to provide opinions on the validity and enforceability of patents and to assess freedom-to-operate issues. Kate provides valuable guidance to clients in the medical device, mechanical, consumer product, design, and femtech industries. In 2021, Profiles in Diversity Journal recognized her as part of its Women Worth Watching in STEM awards.
She earned her law degree, cum laude, from Northwestern University. Kate also holds a bachelor's degree in biomechanical engineering from Stanford University.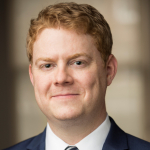 Noah K. Tilton is a computer scientist and patent attorney whose practice is focused on providing strategic intellectual property counsel to clients innovating in cutting-edge, multidisciplinary technologies such as machine learning and artificial intelligence. Noah prosecutes domestic and international patent applications, conducts analyses and prepares opinions, and advises on litigation matters. Noah has deep software industry experience, having worked as in-house patent counsel for the Wolfram companies and as a software developer for CME Group. Noah has secured software and hardware intellectual property for universities, early stage startups, research institutions, and Fortune 100 companies. For several years, he has volunteered with the Wills for Heroes Foundation.
Noah earned his J.D. from Chicago-Kent College of Law. He also holds a Master of Science in Computer Science from the University of Chicago and a Bachelor of Arts in English from the University of Illinois at Chicago.